Order Online

Prefer to book by phone?
Call: 1300 88 10 13
Now taking bookings for Christmas 2021!

We'll confirm your booking and invoice via email with payment options.

Hire an un-decorated or decorated real Christmas Tree from Elfhelp for
hassle-free delivery, installation, stand-hire and pickup! (for Sydney NSW)

Elfhelp confirms all online Bookings by telephone or email.






Elfhelp Hire Packages...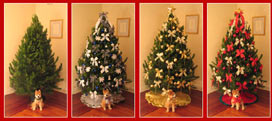 Hire Costs are Total Prices in Australian dollars.
Prices include:
GST, Real Tree, Stand, Delivery, Installation, Decorating (If Decorated service selected, all decos, lighting and topstar included), De-Installation and Pick-up.
1.
Cash/Cheque on Delivery
2.
Bank Transfer
3.
Cheque
made to
Elfhelp
& mailed to:
PO Box 911, Lane Cove,
NSW Australia 2066.
( But we'll send an invoice once we've
confirmed your booking)
Extra Charges

Payment in Foreign Currencies:
Please add A$15 equivalent

Long-Distance Deliveries:
...will cost a little extra; please enquire

Delivery and Pickup
Elfhelp's
"Suburb Delivery Dates"
is
optional
but encouraged!
Click here
to open in a new window